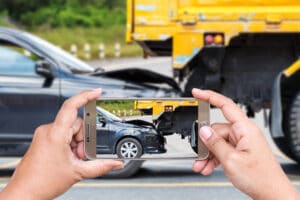 When a car accident occurs and there are multiple vehicles involved, it can be extremely difficult for a driver to determine who was liable for the crash.
Was it the driver who was traveling directly behind them or another vehicle? Establishing liability in a multi-vehicle accident isn't always easy which is why many turn to a car accident attorney for legal help.
Establishing Liability in a Multi-Vehicle Accident
In a multi-vehicle crash, it is important to analyze the chain of events that occurred before a driver was hit. In most cases, these types of accidents occur after one vehicle hits another and the collisions continue to occur. In order to determine who the initiator of the accident was, however, an investigation likely needs to be conducted and accident reports need to be analyzed.
Sometimes, a NY car accident attorney can determine based on the evidence they gather who the initiator was. In other cases, a lawyer may be required to call in additional professionals such as an accident reconstructionist to recreate the scene in order to determine who was liable for causing it. If a driver needs help establishing who was liable for the multi-vehicle accident they were involved in, they can contact Stanley Law at 1-800-608-3333.
Recovering Compensation After a Multi-Vehicle Accident
When a single-vehicle accident occurs or one that only involves two parties, it's generally easier for a crash victim to establish liability and recover compensation for their injuries and losses. But, when there are multiple parties involved, it may be two or more insurance carriers who might be liable for compensating a victim. And if there isn't enough insurance coverage available, then multiple personal injury lawsuits may need to be filed.
What challenges might a driver face when trying to recover compensation after a multi-vehicle accident?
Once a driver knows who it is that is liable for their accident, and it could more than one person, they may find that one insurance company doesn't want to pay. When multiple parties are involved in a wreck, the insurance company may try and throw some or all of the blame on another driver. This can make recovering compensation for accident-related costs extremely frustrating for a victim.
Another challenge a driver might face is having their claim undervalued. Insurance companies often look to minimize the value of the claims they receive in an effort to protect their profits. So, instead of providing a multi-vehicle accident victim with damages they are entitled to and need, many are left struggling to try to cover certain expenses they really shouldn't be required to pay.
Stanley Law Helps Multi-Vehicle Accident Victims Understand Their Rights and How to Properly Exercise Them
If an individual was recently involved in a multi-vehicle accident in Rochester, NY and they need help identifying the at-fault party so that they are able to recover the compensation they are due, Stanley Law is here to help. The Rochester, NY car accident attorneys at Stanley Law are dedicated to preserving the rights of their clients and will fight for a fair outcome in their case.
To schedule a time to speak with a Rochester, NY car accident attorney, contact Stanley Law at 1-800-608-3333.
Stanley Law can be contacted at any of their office locations listed down below:
Syracuse Office
215 Burnet Avenue
Syracuse, NY 13203
Phone: 1-800-608-3333
Website: www.stanleylawoffices.com
Binghamton Office
84 Court St, Ste 414
Binghamton, NY 13901
Watertown Office
200 Washington St, Ste 407A
Watertown, NY 13601
Rochester Office
510 Clinton Square Ste 521
Rochester, NY 14604
Montrose Office
22 Public Ave
Montrose, PA 18801